Hey well it's been a crazy end of summer and an amazing Fall this far. This is a fairly large post to catch everyone up on our journys.
Well Way back at the end of the summer we went to Cedar Point in Sandusky OH with my family. I grew up going there and love it so much! So my sister and all my nieces and nephews and well just abou the whole gang was there. Here are some pics.
Our Whole Family waiting to go in at 9:00 A.M and it's already 86 degrees!!!
Cousons Reece & Madalynne waiting to go on the Junior Gemeni
Connor awake and sissy passed out!!!
Well after that trip we drove the kids up north to go camping with friends of ours while Ben and I headed to Florida for a Worship Conference. Here is a pic or two of Ben and I and some of the kids camping. After we got back from Florida we went up north to Mackinaw and went camping with the kids!!! So much fun but we were so TIRED!!!
Ben & Rach In Florida
Connor playing in his pack and play with balloons!
Daddy & Madalynne
Mike, Su, and Madalynne
Who said Michigan doesn't have pretty beaches ? This is the view from Camping!
Some FUn Family Photos!
Then we had a big shock happen we got a call that Ben's mom was having emergency heart surgery. So we made arrangements for the kids and got on the next Flight to Atlanta. She ended up having a quadroople bypass! She is doing fine now and healing. We threw her a mini bday party in the hospital before her surgery.
Then while we were in Georgia and the kids were in Michigan a Tornado Hit!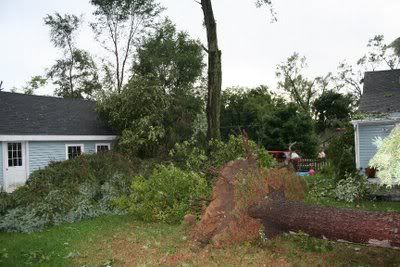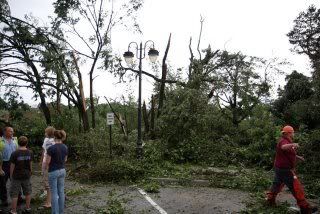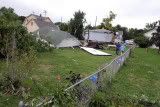 Madalynne is officially in Pre-K! She loves it she is in 4 days a week! my big girl!
Spicers Orchard! We went and picked Apples and we went and got our family pumpkins!
So there is an update....Oh and I almost forgot if you have not heard we are having baby number 3 somtime next spring! I am about 11 weeks now!!! We have no idea if its a boy or girl but here are the names we have picked out:
Girl: Ellianna Rejoyce
Boy: Judah Benjamin
After all my medical problems this year we are so blessed to have this little one in our lives!
Thanks for looking at my long long long post!